The sales process involves many more moving pieces than just closing a deal. From qualifying leads to nurturing and converting them into customers, selling is about building meaningful relationships and having productive conversations that move those relationships forward.
Managing your Salesforce sales pipeline effectively is crucial for growth. If you don't have the proper process in place to move prospects through the sales funnel, you risk losing people at various stages, leading to decreased revenue.
While sales enablement tool usage is up 567%, that doesn't mean companies are using the right technology – or using it the right way – to fuel their business. According to Forbes, companies waste a lot of time studying pipeline reports without getting positive results (i.e., increased sales performance).
So how can you manage your Salesforce pipeline effectively to get the best possible results from your investment? How do you utilize your CRM data to its full potential to reach your top sales goals and increase customer satisfaction? And how do you know when you've hit your benchmarks? Let's dive in and find out.
What is a Salesforce sales pipeline?
We'll start with the basics. Salesforce defines a sales pipeline as "a visual representation of where prospects are in your sales process." It provides information like how much business you can expect to close within a specified period (e.g., week, month, year, etc.). It also helps you predict how much revenue you can expect your business to drum up over time. 
Salesforce sales pipeline tools can empower your team to filter by sales rep, team, or territory – to give you specific, customized data. You can also identify issues or bottlenecks in your sales processes. Pipeline management tools include custom dashboards, in-depth reporting, and more.
What are the stages of a sales pipeline in Salesforce?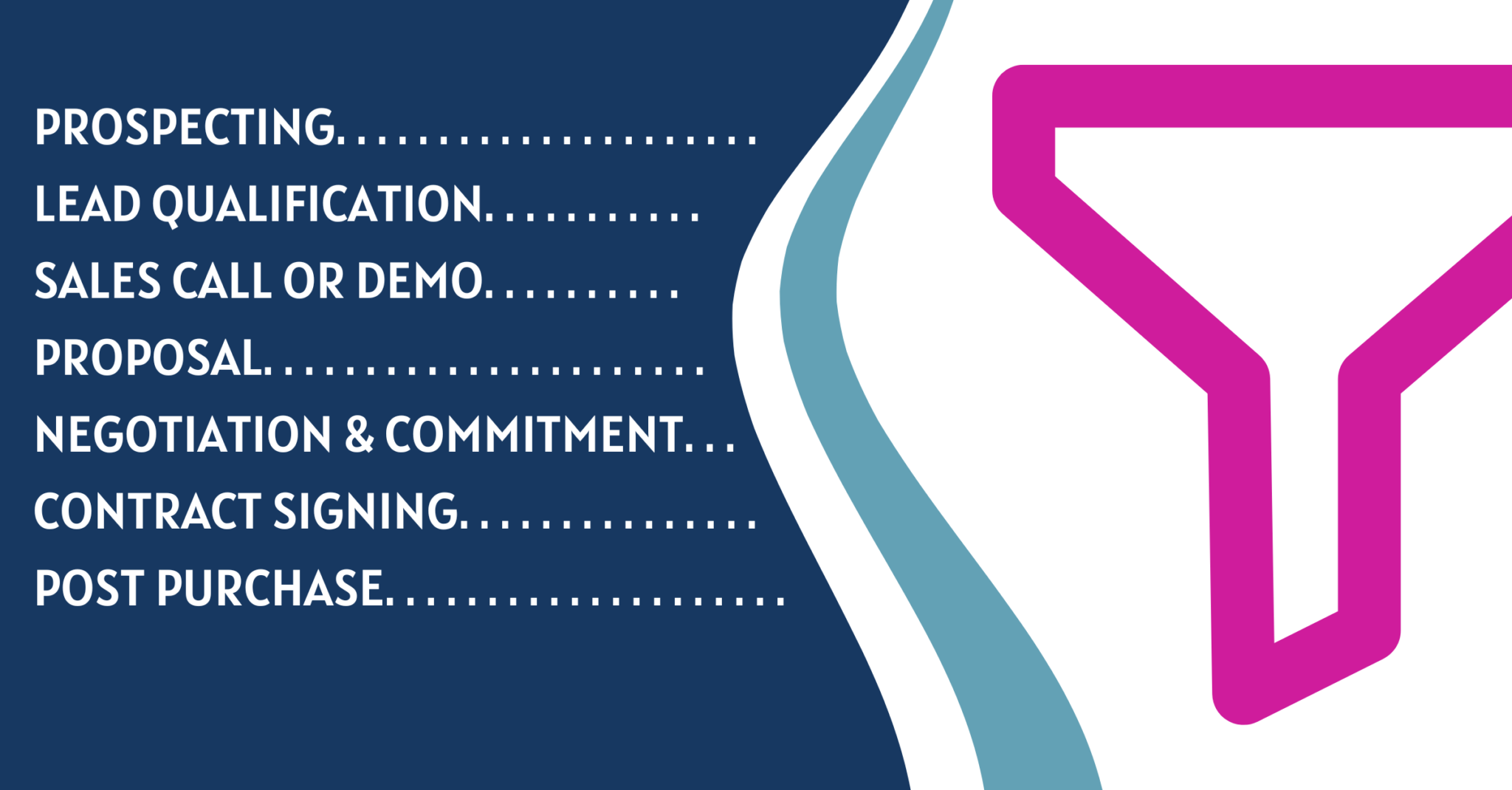 Here's an overview of the Salesforce pipeline – from finding potential customers to closing deals and establishing long-term relationships.
1. Prospecting
Prospecting involves researching, searching for new customers, and reaching out to prospects. Standard methods sales reps use at this stage include cold calling, emailing, using customer referrals, attending live events, and conversing with people through social media.
2. Lead Qualification
Determine which leads are worth pursuing. You can build profiles based on your ideal customers (buyer personas). Focus on moving leads that fall into your "ideal customer profile" down the sales funnel. 
An excellent way to do this is by providing a free resource to help establish your business as an authority in your space. Examples include offering a webinar, sharing an ebook or case study, or setting up a preliminary discovery call. Those that sign up for your freebie are interested in learning more and may be well worth pursuing.
3. Sales Call, Demo, or Meeting
It's time to zero in on your "warm" leads – those about ready to buy from you. Schedule a meeting or live demo after you know your lead needs what you offer. In your meeting, you'll have the opportunity to present how your product or service will help them solve a specific problem or achieve a goal.
4. Proposal
After your lead understands how your business can help them and that your solution is the best option, you can share pricing information. Drive home the benefits of your solution and how it's better than the competition. Personalize it to your audience, and ensure they understand how the value outweighs the cost. You should tailor the proposal to your client's specific needs and pain points.
5. Negotiation & Commitment
You may need to negotiate to win the deal, such as adjusting the pricing or your specific product or service offerings.
6. Signing the Contract
After you've gotten the verbal "yes," you need a signature to seal the deal. Offering an e-signature option allows customers to sign contracts from any location – allowing you to close faster.
7. After Purchase
After closing a deal, it's time to impress your new customers by remaining attentive, monitoring their accounts, and eventually identifying appropriate cross-sell opportunities. Ultimately, you're looking for long-term customer loyalty and advocates who love your brand and want to refer you to others.
7 Best Practices for Managing your Salesforce Sales Pipeline
Follow these best practices to move prospects naturally down the Salesforce sales pipeline (through the stages we just covered).
1. Prioritize relationship building.
By nurturing leads and building relationships, you can establish your brand as trustworthy. Actively listen to your prospects to understand their pain points and needs. Then you can show empathy to create meaningful connections. If you can do this authentically, you won't have to do as much "selling" to make sales. People will naturally want to work with you, support your business, and reap the benefits you offer.
2. Define your sales process.
It's important to standardize your sales process so it's straightforward and repeatable for your sales team. Your target audience will likely have mutual concerns, preferences, and pain points for you to address. You can use these similarities to your advantage to help define the stages of your sales process. 
Keep the process short and simple to start. Then you can fine-tune it over time as you learn what works and what doesn't. A long sales cycle – along with difficult competitive differentiation and a lack of qualified leads – can be detrimental to selling effectively. If your sales process is too long, your prospects may find alternative solutions. 
3. Focus on qualified, high-value prospects.
Focus on the most qualified (actively engaged and sales-ready) and highest-value leads to push your business forward. You can identify these leads in your Salesforce reporting dashboard. 
Consider dropping leads that have gone cold – even if they're in the "high value" category. If a lead loses interest in your offerings, it can be wasteful to pursue them and try to force them into the next stage of the buying process. 
The quicker you can identify inactive leads, the faster you can move on to better opportunities (saving time and money) and close more deals! Plus, let's be honest. Dealing with "dead" or "suspicious" prospects can be a real pain.
4. Invest in Salesforce pipeline management.
Once you've established a strong sales process, the second piece of the puzzle is ensuring your team manages it well – namely, your front-line sales managers. For your managers to do their jobs well, they need to be adequately trained in managing Salesforce pipeline strategies (61% are not). 
In short, here are three investments your business should consider to boost sales:
Define a solid, clean, and credible sales process for sales reps to follow.

Set time aside each week to actively manage your sales pipeline.

Train your sales managers to manage your pipeline effectively.
Keep in mind that creating sales forecasts isn't the same as managing your pipeline. Forecasting involves discussing close dates, deal sizes, and probabilities. Managing your Salesforce pipeline should prioritize discussing the overall health of each sales rep's pipeline and implementing strategies to close more deals successfully – with the end goal of increasing revenue (Forbes).
5. Actively move people through your Salesforce pipeline.
By proactively nurturing your leads, you're increasing sales opportunities by 20% (on average). Marketing automation tools can help. In fact, businesses can experience a 451% increase in qualified leads by using marketing automation to nurture prospects.
6. Analyze CRM data at each stage of the sales process.
Measure and monitor key sales metrics in Salesforce regularly to maintain a healthy sales pipeline (goal = high sales velocity and high conversion rate). The shorter the sales cycle, the better. 
Plan to reserve weekly time to review your KPIs so you understand how your business is growing over time. Here are some essential metrics to track. You can set these details up in your Salesforce CRM.
Average deal size

Number of deals in your pipeline

Conversion rate

Sales velocity (average lifetime of a deal before it's closed)

The total value of your sales pipeline (to determine your ROI)

Length of the sales cycle 

Lead source (how prospects find you)

Which industries your buyers are in
7. Follow up with people.
In 2007, it took an average of 3.68 cold call attempts to reach a prospect. Today, it takes eight! If you're not following up with prospects and leads, you'll undoubtedly miss numerous sale opportunities. As most sales reps throw in the towel after just two attempts, following up more can push your business ahead of competitors.
Partner with Port & Starboard for Ongoing Salesforce Support
Ready to start managing your Salesforce pipeline to prioritize qualified, high-value leads and close more deals? Port & Starboard can help! We'll set up your Salesforce solution to work for your unique business and scale with you as you grow. 
Salesforce is an incredibly powerful tool but not all businesses have the internal resources to use it to its full potential. We can help your business with anything from Salesforce implementation to data management, training, customization, and more. Reach out anytime!